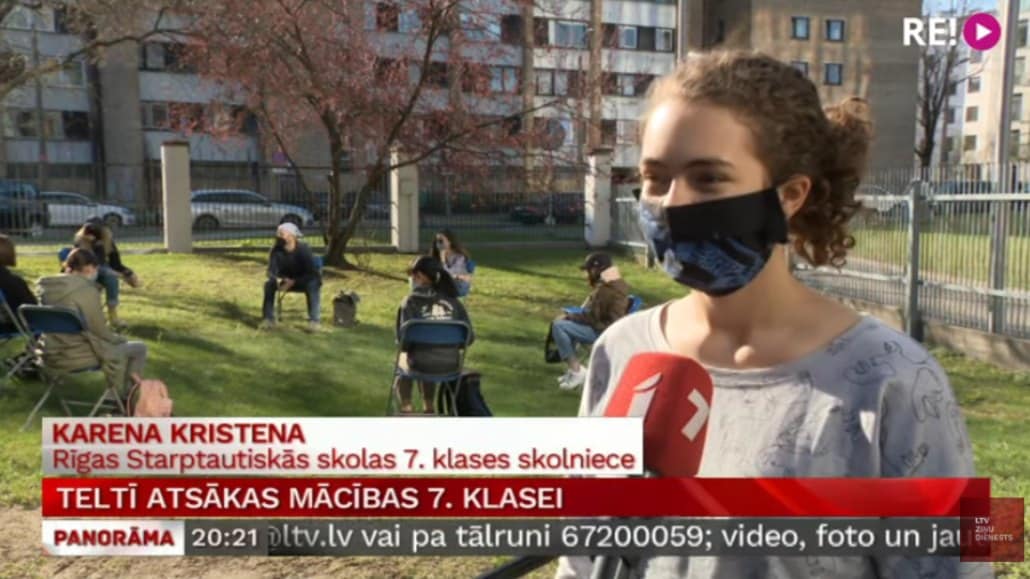 Latvian Television publishes a story about our Outdoor learning program: "The reunion of students in person at the Riga International School begins with conversations and games."
For the first time, 7th grade students of Riga International School met in person in the middle of April. After so long of seeing each other only on the computer screen, changes have been made to the school curriculum. Instead of lessons, adaptation takes place. Students learn to be together again, only this time in masks and two meters away, in a tent or school stadium.
Riga International School is a private school, the language of instruction is English. The school is located between residential houses. The presence of office buildings is also constantly reminiscent of the urban environment. Here, the teacher's story is interrupted from time to time by both the roar of the engine and the generators working in the adjacent building. However, the young people are happy to be able to meet again.
7th-grade student Karen Kristen pointed out: "Yes, it is a bit disturbing, but it is also nice. You are closer to nature, and the feelings are natural. (..) It's so good to be in school again. It's both easier to learn and nice to meet classmates again. And it's just good to be back and feel things change."
Learning online, Karena remembers the constant feeling that school is in your room.
"It was difficult because you felt like you were in school all the time. Even when not studied. But it was good not to get up early. And homework could be done at any time. But there was a lack of cooperation with classmates," she said.
The class advisor admitted that the online "screen time" time for his students – seventh-grade students – had increased.
"Some have become more independent and responsible. They have become much older at this age. But others are not ready for it, and they feel lost," said Grade 7A Advisor Daniel Dodge.
The teacher is happy that, under all conditions, the lessons can take place in person again. He admitted: "It's a great idea. Because the risk is low, there is continuous ventilation because we are outside, in the fresh air."
For now, there is a badminton tournament and board games instead of literature and mathematics. The school's director, Mr. Shane Kells, explained: "Children are social beings. They need to be with others. Social well-being is just as important, so we start with children sitting and just talking. It was such a big challenge for them. And we hope so much that they will not lose their curiosity."
In addition to purely practical things – tents and tables in the area – the school had to think about the workload of the teachers and the work plan. Other classes still study remotely. However, teachers counsel young people privately, in person.
"It simply came to our notice then. Our goal was first to get the children back to school and, depending on their age, to help them understand that school still exists. The school is still here, and they are still part of the school," said Mr. Kells.
This is the first week the 7th grade is studying outdoors. Weather can also introduce its own adjustments for outdoor activities. Once the students have become accustomed to each other, the teachers will also return to the lesson list.
https://isriga.lv/wp-content/uploads/2021/05/NEWSAR1.jpg
579
1030
Roberts Kirejevs
https://isriga.lv/wp-content/themes/isr/images/ISR-logo-new-b-2.svg
Roberts Kirejevs
2021-05-10 15:33:51
2021-05-13 10:18:53
ISR Outdoor learning featured in "Panorama"