Taking the Learning Out of School: the Adventures of the Jacobi Family
By Katy Jacobi, Former ISR parent
.
In 2019, the Jacobi family – Emily, Sophie, Sean and their parents made a radical decision: they decided to take a year off work and school to travel the world. For this article, we've interviewed Sean Jacobi, 13 years old, currently in South America.
.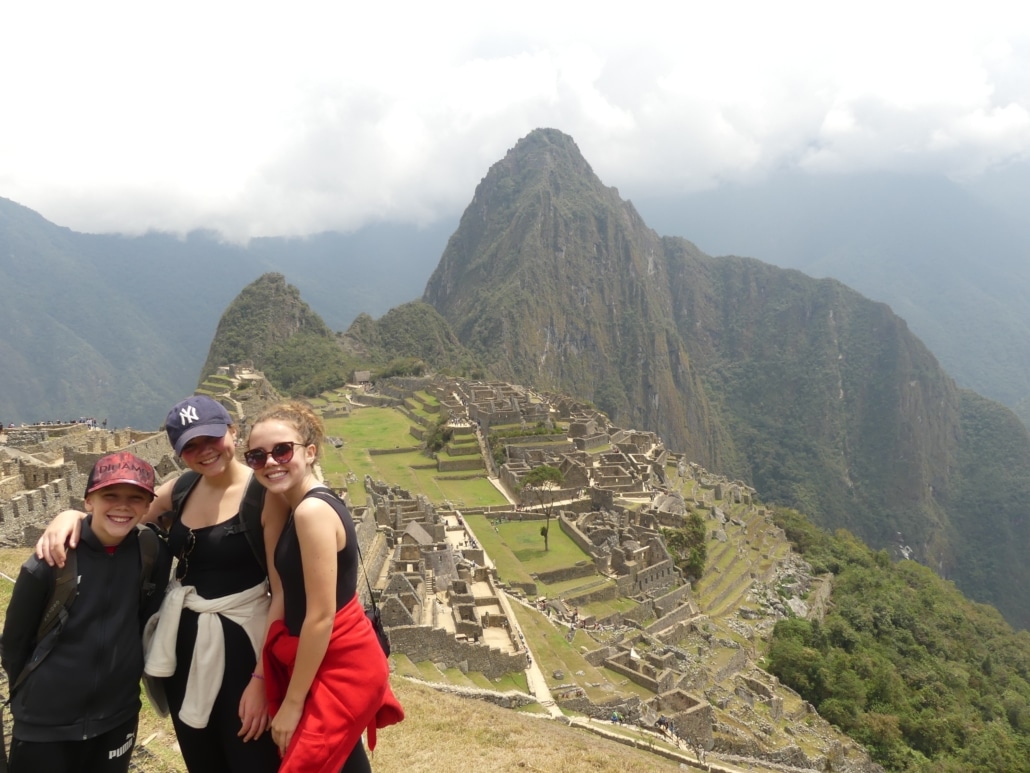 Why did your family decide to take a year off to travel?
We wanted to have a unique family experience that we will always remember, to step out of our comfort zones, and create memorable moments.
.
How do you manage school while travelling?
We do a combination of online school and world school where we learn from our experiences while travelling. Our classrooms change almost every month, including Machu Picchu, Lake Titicaca, the kitchen, museums, the Andes etc. 
I love that I have the freedom to study at any time at all and it is very nice to not have to stress about missing the bus.
.
What have you learned this year?
Well, where do I start? I have learned so much on this trip from ancient history to fishing and everything I learned came with an amazing experience.
For example, we learned how to speak Spanish with local teachers and by speaking to people wherever we went. I learned about the Incas by visiting lots of ruins, the most amazing one was Machu Picchu. When we lived at 3000+ meters in the Andes I learned how altitude affects boiling point and the body.  At museums in Argentina and Chile I learned about the military dictatorships.  I did an experiment and found that black sand is magnetic.  
I did a masterclass in magic and performed tricks for people – that was really fun and I think it helped my confidence talking and presenting to strangers. When we volunteered in Bolivia I was able to meet some really cool people and taught the other volunteers how to do magic for the kids. 
I had to manage the family budget for parts of the trip and so I learned about the value of money.  
There were also lots of really fun things I learned.  Like cooking, tango dancing, fly fishing and horse riding, paddleboarding, how to care for newborn kittens and chickens, devein shrimp, and live minimally.
.
Have you overcome any challenges on your travels?
Staying focused was a big challenge for me when I was studying but I learned that taking breaks between classes really helped me. 
Internet connections were not always great in the countryside – it taught me to be flexible and patient!
Learning Spanish was fun but it was hard because they have different words in every country and very different accents so we had to learn a new Spanish in every new country!
.
Can you tell us about your favourite experiences this year?
We have had so many amazing experiences on this trip, it's insane. I saw Iguazu falls, went to a Boca football game, swam in crystal clear lakes and went on crazy hikes with amazing views. I saw a volcano erupt!  The most exciting things were dune buggying and sand boarding in the desert and ziplining across the Sacred Valley. We've met so many amazing people with amazing stories.  
In short, I had an amazing time on our travels and I have experienced and learned more than ever!
Follow the Jacobis' adventures on instagram @not.in.the.books