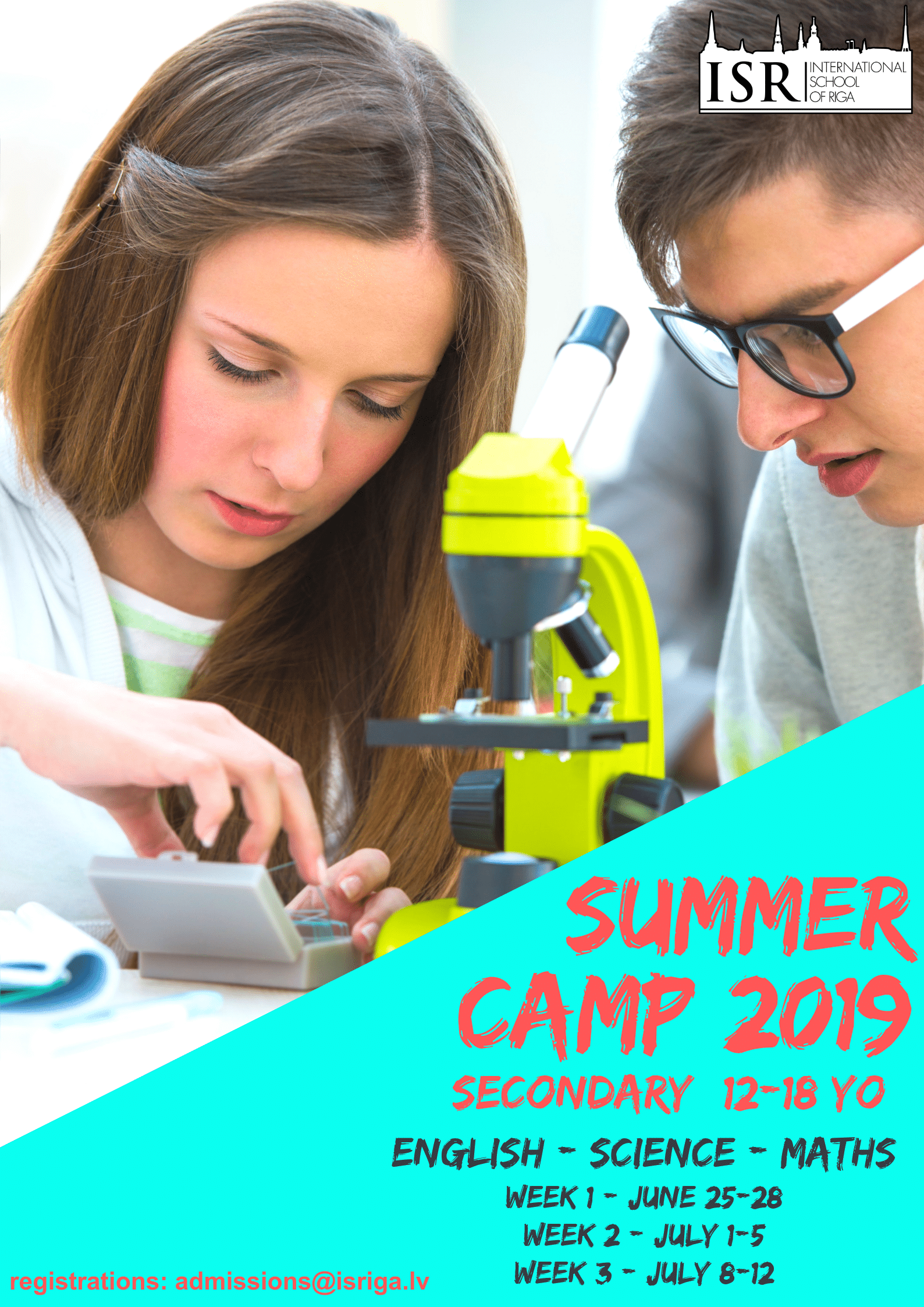 Registration for Summer Camp is now open!
Summer Camp overview
This year, ISR offers Summer Camps for both Primary (3-11 yo) and Secondary (12-18 yo) students. Programs consist of developmentally appropriate activities including games, sports, outdoor exploration, field trips, art, music, language and culture experiences, and free play.
The Summer Camp will run for 2 weeks:
Week 1 – 25-28 June
Week 2 – 1-5 July
* Please note, Monday 24 is a national holiday and camp will not run on this day.
Both Summer Camps will run in our Primary Campus on Kalnciema iela 118.
Secondary Summer Camp (12 to 18 years-old)
Aimed at teenagers aged 12 (Grade 6) to 18 years old (Grade 12), the Secondary Summer Camp is run by our international Secondary teachers and gives participants the opportunity to build their English, Maths and Science skills, play football, badminton, table tennis, create art and participate in various other activities while making new friends. 
This camp aims to improve your child's confidence in speaking and writing English, solving math problems, and scientific exploration and discovery. Students will also have the opportunity to participate in a variety of sports and field trips.
The Summer Camp teachers will provide an individual approach so all students will be engaged and spend valuable time, regardless of their level. The program is conducted in English and includes daily hot lunch (morning and afternoon snacks should be provided by parents).
Schedule
Download the schedule here: Secondary Camp Schedule
Pricing (Primary and Secondary Summer Camp)
Week 1 (4 days)
200€ for ISR members (per child)
280€ for non-members (per child)
Weeks 2 and 3 (5 days each week)
250€ for ISR members​ per week (per child)
350€ for non-members​ per week (per child)
Full payment for registration is due by May 24, 2019. You can cancel your application no later than June 10, and receive a refund less a 25% cancellation fee per camper week cancelled. Refunds are not available for cancellation made after June 10. In case of illness (doctor signed note required), refund less a 25% will be granted. Invoices will be sent electronically from the ISR Finance Office.
ISR Primary and Secondary Summer Camp applications will be open until Friday, May 25, 2019. Places are limited so sign-up soon!
If you have any questions regarding the Camp please do not hesitate to contact the
Summer Camp Coordinator, Līga Eriņa, at liga.erina@isriga.lv.
Application
To apply for Secondary Summer Camp, please fill out this form
Terms and conditions
Please read the Terms and Conditions here